Hello my lovelies,
Here is a review for you all, I hope you enjoy:
Boy in the Tower
by Polly Ho-Yen

Published Date: 3rd July 2014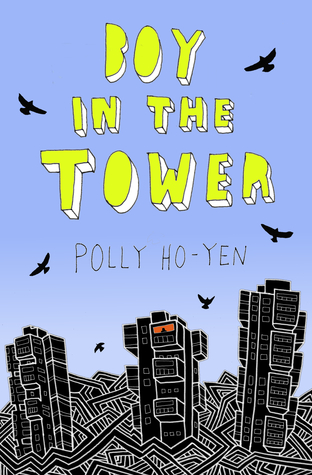 Rating:
**Disclaimer - I was given a free copy of this book in exchange for an honest review**
Summary:
When they first arrived, they came quietly and stealthily as if they tip-toed into the world when we were all looking the other way.

Ade loves living at the top of a tower block. From his window, he feels like he can see the whole world stretching out beneath him.

His mum doesn't really like looking outside - but it's going outside that she hates.

She's happier sleeping all day inside their tower, where it's safe.

But one day, other tower blocks on the estate start falling down around them and strange, menacing plants begin to appear.

Now their tower isn't safe anymore. Ade and his mum are trapped and there's no way out . . .
Review:
I came across this book on Netgalley before it had been released. At the time there was no picture of the book cover, I only had the synopsis to go by. Reading the synopsis really appealed to me, so I had to request this book. And luckily I was accepted.

A great story told through the every day experiences of a young boy called Ade. It is written in a way that reads just like how a young boy would tell you about something. You find yourself easily being Ade at many points throughout the book. I loved how the author at times when describing Ade's understanding of words etc would actually write them as a child would imagine it to be.

All the characters in the book are beautifully written and I found the bond with each character easily formed. We live the relationship with Ade and his close friend Gaia, Ade and his mother and then the wonderful characters Ade meets later. At no time throughout the book did I feel disconnected. This is such a great story about a strong young boy and the dilemmas he has to face and how he deals with them.

A wonderful read for all ages or even to read with your children. This book will not leave you disappointed!


Congratulations to Polly Ho-Yen, may you have many future successes!
Useful Links