Another review for you all, I hope you enjoy:
The Fearless
by Emma Pass

Published Date: 24th April 2014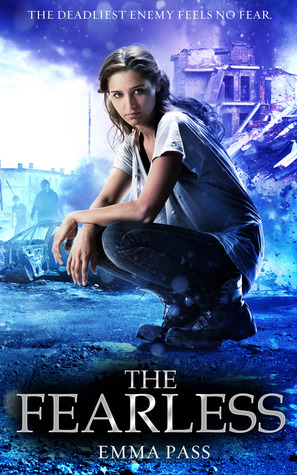 Rating:
**Disclaimer - I was given a free copy of this book in exchange for an honest review**
Summary:
The Fearless. An army, powered by an incredible new serum that makes each soldier stronger, sharper, faster than their enemies. Intended as a force for good, the serum has a terrible side-effect - anyone who takes it is stripped of all humanity, empathy, love. And as the Fearless sweep through the country, forcing the serum on anyone in their path, society becomes a living nightmare.

Cass remembers the night they passed through her village. Her father was Altered. Her mother died soon after. All Cass has left is her little brother - and when Jori is snatched by the Fearless and taken to their hellish lair, Cass must risk everything to get him back.
Review:
I found this book one day whilst browsing Netgalley, I actually received this book as an arc at the time, unfortunately this review is coming to you after the release.

Well you should all know by now that this is my favourite genre and when I read the blurb, this was my next must read.

This book was awesome!!

It is not just your normal run of the mill post-apocalypse style books. Set in the UK was a welcome change and being from the UK myself I found it easy to relate to. The idea of a drug like what is in this book, created to help deal with PTSD makes it even more realistic.

The story is mainly told through Cass, our lead female role. When the fearless first strike, Cass is still quite young and experiences alot of hardship. As the story progresses Cass has turned into a strong woman, her only option as she faces many more desperate and dangerous situations. Nothing will get in her way when it comes to family. One of the male lead characters, Sol, Cass grew up with and experienced the fearless invasion together. Most other books would have these two together, surely going through so much hardship would make them a couple...not the case. We then meet Myo, our other male lead character. Mysterious at the start, then as the story progresses and you learn of what Myo has experienced throughout his life, it all makes a very compelling storyline. Every page I read, I needed more. This book was fantastic!

If your a lover of dystopian, zombie, apocalypse/post apocalyptic you need to get this book. You won't be disappointed!

Congratulations to Emma Pass, may you have many future successes!
Useful Links