Well fancy seeing you here again, lol!
Dangerous
by Shannon Hale

Published Date: 4th March 2014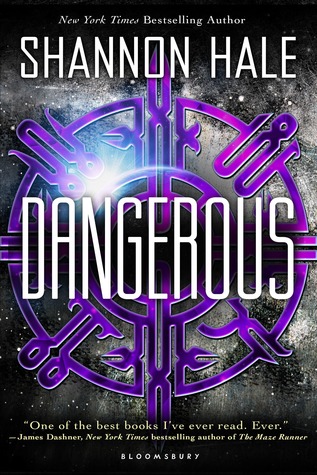 Rating:
**Disclaimer - I was given a free copy of this book in exchange for an honest review**
Summary:
Maisie Danger Brown just wanted to get away from home for a bit, see something new. She never intended to fall in love. And she never imagined stumbling into a frightening plot that kills her friends and just might kill her, too. A plot that is already changing life on Earth as we know it. There's no going back. She is the only thing standing between danger and annihilation.

From NY Times bestselling author Shannon Hale comes a novel that asks, How far would you go to save the ones you love? And how far would you go to save everyone else?
Review:
A completely new author to me, found this book on Netgalley. The cover caught my attention immediately, then after reading the blurb, I knew I had to read the book!

Haters gonna Hate, but I really enjoyed this book. The story was just so fun and filled with sci-fi action and excitement. Our heroine Maisie gets to experience it all. Maisie isn't your everyday average hottie, she has flaws. Her life changes dramatically, she embraces the changes, grows, learns and becomes the heroine. There is nothing about Maisie you won't fall in love with. There are many other characters in the book, all with different personalities and blend well into the storyline.

It is definitely a re-reader. I just wish that it was made into a series. Maisie is a really interesting character. Perhaps if we are lucky enough, we might get some more Maise 'Danger' Brown adventures!?!

Congratulations to Shannon Hale, may you have many future successes!
Useful Links