Well hi there,
How have you all been?
I have been good. Working away. I'm off this week on holidays though. Spending time with my recuperating husband. I did plan to read...alot....well lets say that isn't going to plan at the moment lol. Anywho, here is my latest review. I do hope you enjoy!
Viper Game by Christine Feehan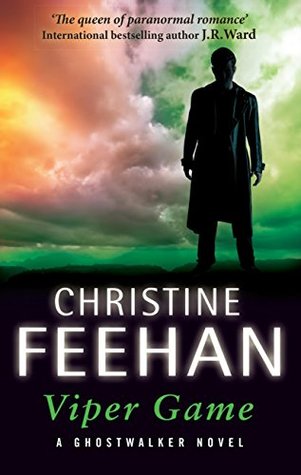 *** Disclaimer ***
I received a free copy through (add info here) in exchange for an honest review.
Rating:
GhostWalker Wyatt Fontenot knows the price he paid for the secret military experiments that gave him his special catlike abilities. After all, he left his home a healer and came back a killer. While Wyatt and his GhostWalker brother Gator may have known exactly the sort of game they were getting into, Wyatt never anticipated where it would lead - or to whom.

The swamps hold many mysteries, but few are as sinuously seductive as Le Poivre de Cayenne. The woman the locals call Pepper is every bit as enigmatic as the three little girls she's desperately trying to protect. From what, Wyatt is soon to discover. Right now Pepper needs a man like Wyatt. Passionately. But her secrets are about to take them both deeper into the bayou than either imagined-where desire is the deadliest poison of all.
Review
Christine Feehan is a new author to me. The lovely Poppy from Little Brown Books approached me before the end of 2014, offering me the opportunity to read and review this book. I loved the mysterious cover and the sound of the synopsis, after accepting, Poppy kindly sent me a copy to review before todays release date.

Reading this book, I didn't feel like I needed to have read any of the other series. Although now I do want to read the rest to get to know more about the other characters mentioned throughout the book, in particular Wyatt's brother Gator. I would have loved to have seen him in this book. Anyways, yet more books added to my TBR lol.

I found the authors writing style enjoyable. Christine creates an amazing world full of unique interesting characters. Each character so detailed, you find yourself easily picturing and connecting with them. The relationship between Wyatt, his brothers and Nonny is wonderful and I absolutely loved the little girls. A story filled with suspense, danger, a lot of passion and much more.

Unfortunately for me, there was a little bit too much passion. I found myself skimming quickly over it at times as I do feel it did have an impact on the pace of the story and took away from the plot. Hence my rating.

My rating was also affected by Peppers numerous moments of insecurities. Every woman has them. However Pepper sometimes got a little carried away with hers. Frequent eye rolling moments from me. Sometimes I just wanted to grab her, give her a slap and say "Get over yourself woman and look at the bigger picture!"

However saying that, Pepper and Wyatt's relationship was intense. They are connected on so many levels through everything they have been through. Remove some of the foreplay etc and add in something deeper and it would have made a more enjoyable read for me.

Don't get me wrong, I did enjoy this book and I would have enjoyed it more if there wasn't so much sex. I do recommend you give it a read however. I'm sure you will enjoy it also.


Useful Links